BCG
TV
New
Mawaan Rizwan Juice
Mawaan Rizwan's BBC Three pilot Juice co-stars with Russell Tovey as comic boyfriend
Rizwan plays Jamma, an aspiring star whose family is constantly stealing their thunder
The comedy also features the actor's mother and brother in real life portraying versions of themselves.
Russell Tovey has joined the cast of Mawaan Rizwan's BBC Three Juice pilot, alongside the stand-up's actual brother and mother, as well as his comedic colleague Jeff Mirza.
As the British Comedy Guide revealed last month, the 35-minute Comedy Slice, which premieres this fall, was also made for the US streaming service HBO Max. It is based on the Edinburgh Fringe 2018 show by Two Weeks To Live star Rizwan, which stems from the advice his mother gave him growing up that if "life gives you mangoes, make mango juice".
Rizwan plays Jamma, who desperately wants to be the center of attention, but her family is constantly stealing her thunder.
Mum, Farida (Shahnaz Rizwan) always does everything for her, dad, Saif (Mirza) ignores her and her brother, Isaac (Nabhaan Rizwan), steals the show at work – the only place where Jamma feels like he is fine. And when he finally gets validation from her boyfriend Guy (Him & Her star Tovey), he can't stand it. Jamma's overactive imagination races and the world around him changes.
As her 2018 storytelling show recounted, Pakistani-born Rizwan's mother became a Bollywood star after featured in one of her music videos. The dad of the aspiring show business megastar is a playwright, while his brother, Nabhaan, who is also an established actor, just shot HBO's sci-fi miniseries Max. Eleven station, about a pandemic that is wiping out most of the world's population.
"I did a live show at the Edinburgh Fringe about how my mom always steals my thunder," Rizwan said. "Luckily, I was tasked with making my own TV pilot. Unfortunately my mom is in it and really steals my head."
Juice is one of three BBC Three comedy pilots of gay writers confirmed by the company today, alongside the brave daughters of Kat Sadler [sic] and Peck'Eds by Soph Galustian.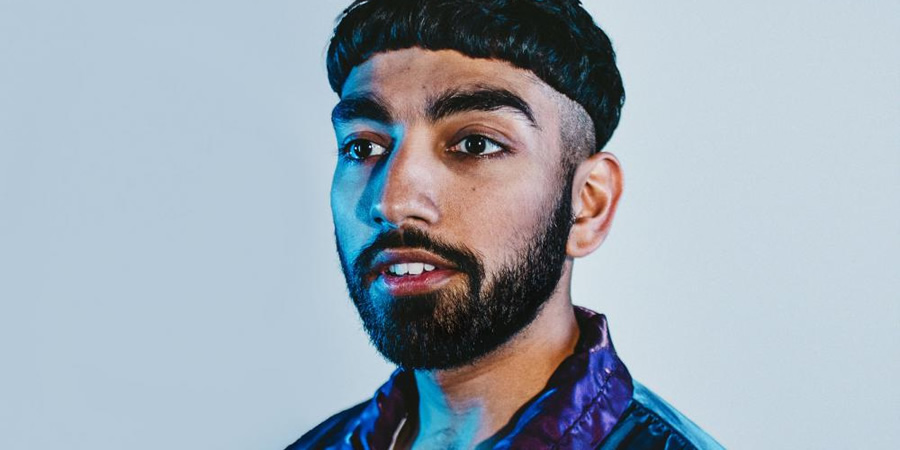 Directed by Gideon Beresford and Behnam Taheri under their pseudonym Rosco 5, who directed the short Mondeo 2020 starring Kiell Smith-Bynoe and Sunil Patel, Juice is produced by Hannah Moulder for Various Artists Limited (Dead Pixels, Sally4Ever). Mawaan Rizwan's executive produces alongside Phil Clarke for VAL TV and Tanya Qureshi for BBC Comedy.
"Working with the talented Mawaan has been a pleasure and a privilege," said Clarke, Managing Director and Executive Producer of VAL. "He has a unique comedic take on the world, and the result is a truly original show – heartwarming, life-affirming, surreal, surprising and very funny."
BBC Comedy Director Qureshi added: "We are incredibly excited to bring Mawaan's creation to the screen. He has such a talent for storytelling and performance – which is clearly in his genes! With a fantastic cast and creative team behind the scenes, Juice really is something special. "
Named the BBC's first winner for Youth Comedy in July, with a mission to champion comedy as an art form, and to engage and inspire new talent to start writing and acting, Rizwan is chief judge for the company's New Comedy Awards, for which he spearheads the new Under-18 category and curator of the inaugural BBC Comedy Festival, as well as shaping and informing the BBC's outreach program in schools.
He appeared on Channel 4's inaugural Taskmaster series last year, co-hosted Jonathan Ross's Comedy Club on ITV, and performed alongside Game Of Thrones'Maisie Williams in Two Weeks, Sky's survival comedy airing on HBO Max.
Writer for the hit Netflix comedy Sex Education, repeating that work for the third series released on September 17, Rizwan was named one of Forbes magazine's "30 Under 30" performers to watch in Europe last year.
The former cross-dressing comic also featured the 2015 BBC Three documentary. How gay is Pakistan?, in which he met people around the country living gay and transgender lives despite fear of persecution.
Other screen credits include an appearance on Live At The Apollo and Harry Hill's Clubnite, as well as Simon Amstell's Carnage and Benjamin films, after supporting the former Never Mind The Buzzcocks host on tour. He released three comedic singles songs: I have a new walk, I have never skied and Mango.
It was also confirmed today that Liam Williams' sitcom Ladhood is returning to BBC Three for a third series:
"Supporting new talent and providing a platform for new comedic voices has always been essential for BBC Three," said Fiona Campbell, Controller of BBC Three. "Mawaan, Kat, Soph and Liam are some of the best comedy storytellers and we feel incredibly lucky to be able to work with them and showcase their creations.
"From family dilemmas to difficult situations in adulthood, every show has a unique voice at heart telling relevant stories that we know our audiences will love."
---
For updates, click the button below.