Stephen Nichols has been in the soap opera game for decades. The beloved actor has appeared on several sudsers, but he's also enjoyed a career in film and television. According to Soap Central, Nichols gave up a scholarship to attend Ohio State University after high school. Instead, he joined the Self-Realization Fellowship Center and planned to become a monk.
After three years, Nichols found a new passion and decided to try his hand at acting. He attended Los Angeles City College Theater Academy and began working on stage productions. He then landed a role in the movie "Choices" alongside Demi Moore.
Nichols went on to star in such films as "House," "Deep Cover," "Witchboard," "The Glass Cage," "Soapdish," "Cover Me," "Phoenix," and "Heaven's Tears" (via IMDb). The actor also has an impressive TV resume, which includes roles in shows such as 'Dynasty', 'Dallas', 'TJ Hooker', 'Matlock', 'LA Law', 'Murder, She Wrote'. , "Renegade", "The Nanny" and "Melrose Place".
Of course, Nichols became a household name when he started starring in soap operas, and daytime TV fans have come to love and appreciate seeing his many characters over the years.
Stephen Nichols debuted as Steve Johnson in Days of Our Lives in 1985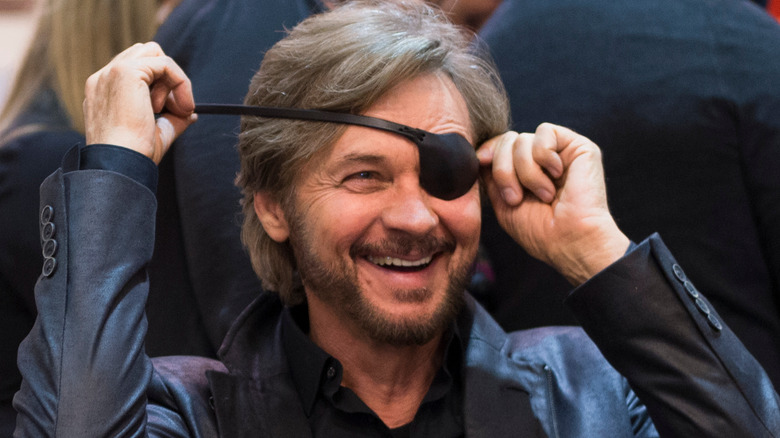 Cooper Neil/Getty Images
Stephen Nichols made his soap opera debut on "Days of Our Lives" in 1985. The actor portrayed Steve "Patch" Johnson on the NBC sudser. Steve was first introduced as a member of the Merchant Navy alongside fan-favorite character Bo Brady (Peter Reckell). The two became best friends until they both fell in love with the same woman. Steve and Bo got into a physical fight that ended with Steve losing an eye, according to Soap Central.
Steve then came to Salem to work for Victor Kiriakis (John Aniston). He met Kayla Brady (Mary Beth Evans), and the two fell madly in love. During his early years in Salem, Steve also met Adrienne Johnson (Judi Evans) and learned that she was his long-lost sister. Steve and Kayla have been through a lot of ups and downs together, including Kayla losing her hearing and her speech in an explosion (via Soaps in Depth). However, the couple prevailed and eventually got married. During the ceremony, Kayla surprised Steve by saying his vows and revealing that his hearing and voice had both returned from previous surgery.
The happy couple went on to have two children, Stephanie and Joey, and Steve later discovered he was also the father of Ava Vitali's (Tamara Braun) son, Tripp Dalton.
Nichols left "Days of Our Lives" in 1990 and returned in 2006 (via Soaps). Since then, he has been mainly on the web.
The actor appeared as Dr. Skyler Gates in Santa Barbara in 1992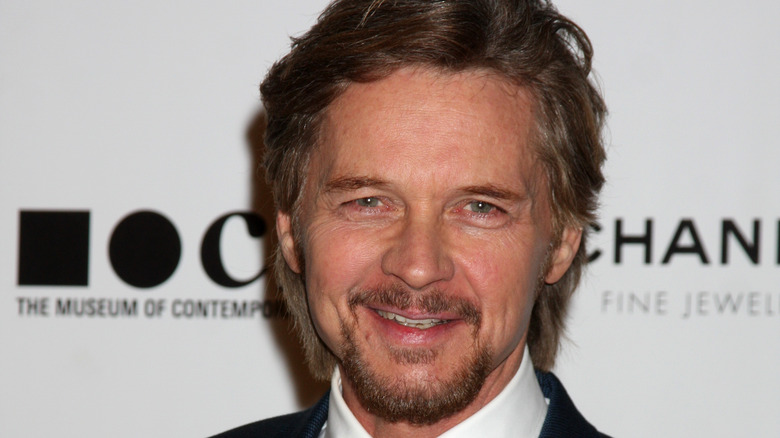 Kathy Hutchins/Shutterstock
After leaving "Days of Our Lives" and the role of Steve "Patch" Johnson behind in 1990, Stephen Nichols went on to find another soap opera acting gig. The actor was hired to portray the character of Dr. Skyler Gates on the beloved former soap opera "Santa Barbara." Nichols took the role in 1992, per Soap Central.
Skyler's role was very different from Steve's. The doctor was a Zen therapist. At the time, Nichols told Soap Opera Weekly that he enjoyed the process of working on daytime television rather than being on location to film. "The regular routine is nice…to know that you're going to the same place every day," he said (Via Santa Barbara Online). "There is something to be said for this consistency, this stability in daily life. It is one of the good things of the day. I like it. Besides, I have children at home. C "It's nice to be able to leave work, drive home, and they're there. I'm not on location in Tennessee or anywhere else in the world. I'm home."
After Nichols' stint on "Santa Barbara," he moved on to another well-known soap opera.
Stephen Nichols signed on to play Stefan Cassadine in General Hospital in 1996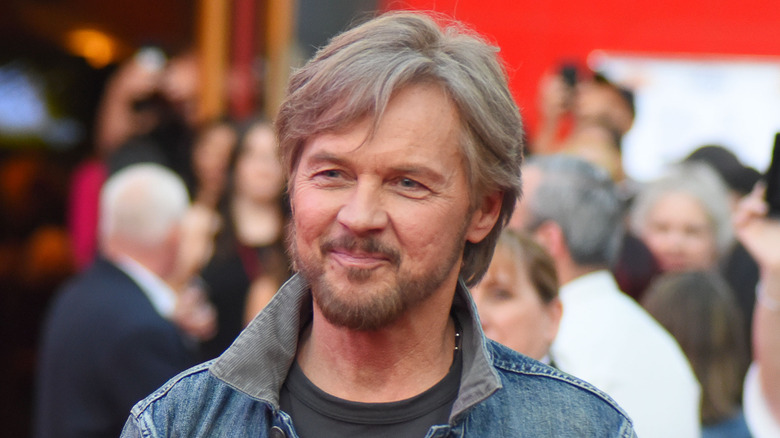 Michael Mattes/Shutterstock
In 1996, Stephen Nichols moved on to his third major soap opera role when he landed the role of Stefan Cassadine on "General Hospital" (via Soap Central). Stefan was introduced as Nikolas Cassadine's uncle. When he arrived in Port Charles, he ended up falling in love with Laura Spencer. However, Laura insisted she was crazy about Luke Spencer.
Stefan eventually encountered Katherine Bell and later accidentally shot her during a confrontation with Luke (via Soaps in Depth). Although Stefan later married Luke's sister, Bobbie Spencer, their marriage fell apart when he learned that she had only been with him to help his brother bring him down. Stefan and Katherine eventually started dating and fell in love, which brought together Nichols and his former "Days of Our Lives" wife Mary Beth Evans as another popular soap opera couple. Stefan and Katherine got engaged, but the couple never made it down the aisle. Katherine was killed off when she was pushed off a building in 1999. Although Nichols left the role of Stefan in 2002, he returned for a brief stint in 2003. His character was also killed off when he was stabbed and thrown over a cliff.
However, Nichols' soap career was not over.
Stephen Nichols played Tucker McCall in The Young and the Restless from 2010 to 2013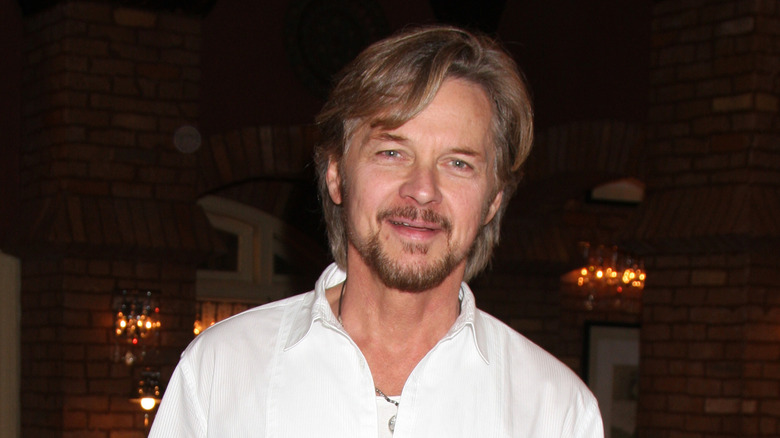 Joe Seer/Shutterstock
In 2010, Stephen Nichols joined the cast of "The Young and the Restless" as Tucker McCall, per Soap Central. Tucker made his soap opera debut in December 2009 with William Russ in the role. However, Nichols took it a few weeks later. Tucker was a businessman who caused some trouble in Genoa City when he got involved in an affair with Jill Abbott, per Soaps. It was later revealed that he was the long-lost son of Katherine Chancellor, who came to town to exact revenge on his absent mother by selling her business.
However, Tucker and Katherine eventually bonded, and Tucker decided to keep the business to himself, per Soaps in Depth. He also chose to make Ashley Abbott (Eileen Davidson) the company's CEO. Eventually, Tucker and Ashley started dating and he popped the question to his love on Christmas Eve. After getting married, Tucker and Ashley found their relationship on the rocks. They broke up after Ashley found out her husband was cheating on her.
Tucker later announced he was moving to Hong Kong, and when his mother died he was so upset he couldn't bring himself to return for her funeral. Nichols left the role in 2013 when her character was written off the show.
Nichols has been a big part of daytime television for decades. Although he's best known for his role on Days of Our Lives, fans of all the soap operas apparently got to know him through his plethora of roles.